Thrifty Thursdays: The "I Might Spend Some Money" Edition
May 05, 2016
Happy Thursday, everyone! It's time for
Thrifty Thursdays
, a weekly book meme dreamed up by
Sal over at Motion Sick Lit
.
Thrifty Thursdays is designed to get book bloggers hunting for new and/or interesting reads on the cheap. Scoping out your favorite independent bookseller is especially encouraged.
Sal's rules for the feature are as follows:
1. Each week's link-up will be posted on Thursday.
2. Post or talk about a book you found used (preferably in a book store or thrift shop).
3. The book must cost less than $5.
4. Be sure to return for the link-up! Weird or strange books are preferred.
I thought I'd try something new (read: basically going against every tenet of the Thrifty Thursday feature) this Thursday. I've been on an unofficial, only-sporadically-enforced book-buying ban in an effort to
read my own damned books
this year, but that doesn't stop me from getting itchy to grab something from the innumerable Kindle Daily Deals. Thankfully, I unsubscribed from the sale emails, but I just
know
they're still there, tormenting me with their cheapness.
According to my bank transfer history, I haven't bought a book for myself in over two months! (Let's just conveniently ignore my monthly Audible subscription.) Although I want to keep this streak going strong, three ebook deals in particular caught my eye today. If I'm going to cave and get one of them, I want to at least make an educated decision.
Here's where y'all come in: which of these extra strange, extra cheap ebooks catches your eye?
One morning in the park James Sim discovers a man, crumpled on the ground, stabbed in the chest. In the man's last breath, he whispers his confession: Samedi. What follows is a spellbinding game of cat and mouse as James is abducted, brought to an asylum, and seduced by a woman in yellow. Who is lying? What is Samedi? And what will happen on the seventh day? (Goodreads)
Well, doesn't this just sound mysterious as heck. I know that
Julianne has enjoyed Jesse Ball's work
, and I trust her when it comes to all reads outlandish (teehee). The cover in particular drew me in immediately. Can I go wrong for $2?
Sierra Santiago was looking forward to a fun summer of making art, hanging out with her friends, and skating around Brooklyn. But then a weird zombie guy crashes the first party of the season. Sierra's near-comatose abuelo begins to say "No importa" over and over. And when the graffiti murals in Bed-Stuy start to weep.... Well, something stranger than the usual New York mayhem is going on. Sierra soon discovers a supernatural order called the Shadowshapers, who connect with spirits via paintings, music, and stories. Her grandfather once shared the order's secrets with an anthropologist, Dr. Jonathan Wick, who turned the Caribbean magic to his own foul ends. Now Wick wants to become the ultimate Shadowshaper by killing all the others, one by one. With the help of her friends and the hot graffiti artist Robbie, Sierra must dodge Wick's supernatural creations, harness her own Shadowshaping abilities, and save her family's past, present, and future. (Goodreads)
Although it's a bit out of my comfort zone, I've been a on
a really good streak when it comes to YA urban fantasy lately
, and I've heard excellent things about
Older's Bone Street Rumba series
. I'm especially intrigued by this book's focus on Caribbean legend.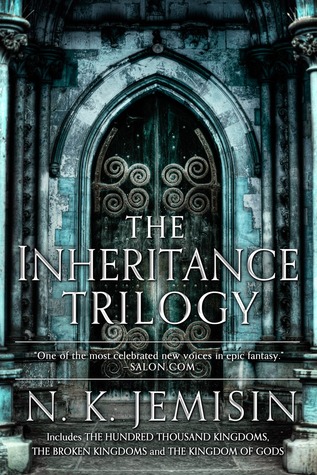 Yeine Darr is an outcast from the barbarian north. But when her mother dies under mysterious circumstances, she is summoned to the majestic city of Sky. There, to her shock, Yeine is named an heiress to the king. But the throne of the Hundred Thousand Kingdoms is not easily won, and Yeine is thrust into a vicious power struggle. (Goodreads)
All right, so this one is a bit of a cheat because I'd be buying three books instead of one, but each would only cost me $3.33! What a bargain!
Y'all know how much I loved Jemisin's The Fifth Season
, and I'm curious to explore some of her earlier work. Knowing Jemisin, there will be kick-ass, magical women by the boatload.
All right! Which of these would YOU maybe, sort of spend your money on? Hypothetically?