Lit in My Luggage: Summer Vacation Selections
June 30, 2015
I've written before about
what makes a good travel read for me
, especially when the going gets stressful. I love a short page count and light prose working together to deliver a story that isn't completely devoid of meaty ideas;
The Storied Life of A.J. Fikry
did the trick for me when
I went to a work conference earlier this year
and needed a breather between presentations and social events.
However, now that I'm packing my books to
jet off somewhere purely for pleasure
, my priorities have shifted. While I definitely plan to read over my vacation, I won't be relying on my books as much for stress relief (I hope not, at least!), opening up the possibilities for length, difficulty and topic. Variety and flexibility is the name of this game; I want to be able to move between reads as my whims dictate. And if I chuck the book aside (or, you know, carefully set it aside like a civilized person) to go jump in the lake and don't cast another glance toward it until the plane ride home? So be it!
Without further ado, here's what I've got in my carry-on:
I mentioned this one
coming in the mail
a few days ago, but I haven't had a chance to really dig in yet, despite the fact that the dust jacket has the most mesmerizing texture (sorry, is my book fetish showing?) and
plenty
of
folks
I
trust
have written reams about it. All I know is that there's a library, what sounds like a creepy cult, and it
probably
involves a fire. I'm all in.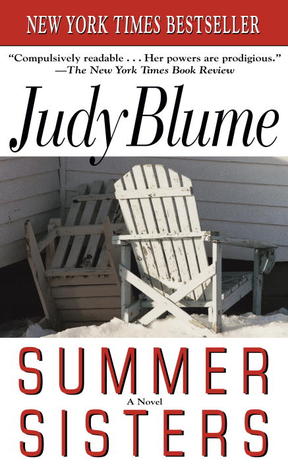 This one's for the
#BlumeAlong
! I had a great time reading and
tweeting
about
Are You There, God? It's Me, Margaret
earlier this month, and I'm excited to embark on a brand-new Blume in July. The Goodreads blurb promises female friendship, lush getaways at Martha's Vineyard, and more than a bit of drama. This isn't a book I'd normally pick up if Blume's name weren't stamped on the cover, but it sounds like perfect reading for lolling about in various locations (sunshine, hammock, tent, etc.).
This one comes along on my Kindle because my
Classics Club List
is woefully neglected and everyone (ahem,
Amanda
) has been telling me to read it. I also want to check out
Re Jane
by Patricia Park (
Kerry
wrote
a great review
and got my TBR a-growin'), and I'd like to have the original story under my belt before I tackle a retelling.
Of course, my Kindle houses more than a few other options, if none of these three jives with me.
I've still got time to prowl the library or its ebook collection (so my boyfriend doesn't kill me) before I leave. Anything I should add to my vacation arsenal?