This is a Review: Tell the Wolves I'm Home, by Carol Rifka Brunt
May 04, 2015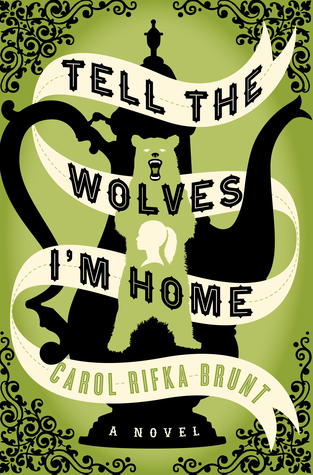 This cover, ugh. So beautiful.
All right, enough's enough.
I've been hinting
about how much I loved (and cried over)
Tell the Wolves I'm Home
for
weeks now
. Maybe I should actually review this book already.
Carol Rifka Brunt
's debut introduces us to fourteen-year-old June Elbus, a lone wolf of a teenager growing up in the early '80s in upstate New York. She has a penchant for the medieval and for spending time with her beloved uncle Finn. These days, with her parents busy at work and her older, more "talented" sister Greta becoming way too cool for her, June thinks Finn might be her only friend. This is just fine by her—that is, until Finn finally loses his battle against AIDS. The bulk of the story is June taking the reader through her final days with Finn (including his painting a portrait of June and Greta that serves a key role throughout the book) and the months after his death in which she connects with Finn's partner, Toby, heretofore hidden away from her.
Oh, June. She is just the picture of a precocious, reserved, anxiety-ridden teenager. Having been one of those myself, I couldn't help but love her, especially for gems like these:
"Watching people is a good hobby, but you have to be careful about it. You can't let people catch you staring at them. If people catch you, they treat you like a first-class criminal. And maybe they're right to do that. Maybe it should be a crime to try to see things about people they don't want you to see."—pg. 4, Tell the Wolves I'm Home
I ached for her as she stumbled her way through the aftermath of Finn's death and realizes just how much of the uncle she knew was actually Toby shining through him. She also grapples with the fact that what she felt for Finn (and, eventually, for Toby) may not have been entirely familial. As a gal who had a totally weird crush on her "cool uncle" as a child, this examination of how confusing love (and all its different manifestations) can be when you're young really hit home with me. We also watch June come to terms with the darkest parts of herself (the "wolves," if you will): a searing jealousy of Toby's relationship with Finn and her anger over the loss of her close relationship with Greta. Exploring the inner workings of a teenager dealing with multiple kinds of grief is ambitious, and Brunt's writing felt authentic in a way very few books achieve.
"The sun kept on with its slipping away, and I thought how many small good things in the world might be resting on the shoulders of something terrible." —pg. 233, ibid.
This isn't to say the book is perfect. If you look hard enough, there are plenty of things to pick apart. Some of the characters are woefully under-developed (I might have missed it, but I'm pretty sure June and Greta's father was never even named), and certain aspects of the ending, while touching, seemed out of keeping with the rest of the story. I read this for a book club, and one of its members said it well when he told us he loved the book, but he doesn't know if it would "hold up under scrutiny" or that he'll ever be inclined to re-read it. I'm not sure this one will warrant another reading for me, either, but I know one thing for sure: I'll look back on this first reading with utmost fondness.
There's so much more I could explore about this book—sibling relationships! parental pressure/expectations! AIDS hysteria in the 1980s!—but I'd much rather you just read it for yourself. If you like stories about love, grief, families, or being a teenager trying to survive the messiness of life, I implore you to pick this one up.