Great Travel Reads, Or: 3 Reasons Why The Storied Life of A.J. Fikry Worked for Me
April 02, 2015
While I was
away at my conference two weeks ago
, I realized that my stressed-out traveling brain just isn't great for appreciating certain types of books.
(Ahem.)
Too many things going on? Nope, too relevant to my present state. Too philosophical? Nah, no attention span for that, and it might be all I need to pass out on the train. Too sad/serious/otherwise distressing? Once again, really not what I need while I'm fumbling with my luggage and wishing Google Maps would get its act together already.
Enter
The Storied Life of A.J. Fikry.
This unassuming little book had been sitting on my Kindle since I got it over the holidays, but I'd never cracked it open (or, you know, clicked on it), despite my love for curmudgeonly characters and book-themed books. (
For a great list of those, check out M's at Backlist Books
.) A.J. Fikry is super cranky
and
owns a bookstore. Why did I wait so long to read this one?!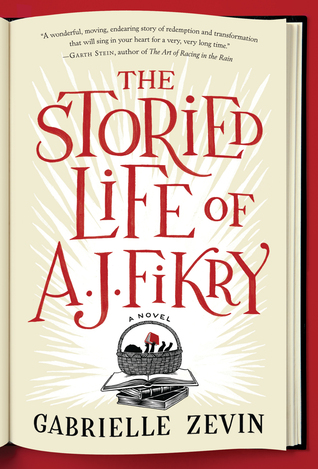 In fact, I probably waited just the right amount of time, because I think this book was best read while I needed a respite from the madness around me. Here's why:
1. It's short, but not too short.
The whole story clocks in at 260 pages and took me just two days to read while I was on my business trip. I think anything too far over the 300-page threshold would require just a smidge more attention than I have to offer during travels, and it might bleed over into reading time once I'm back home. With something
A.J. Fikry
-length, I was able to enjoy myself for a couple of days
and
feel the accomplishment of finishing a whole book.
2. The writing was light.
This isn't to say the book was entirely fluffy—there are actually a surprising number of particularly devastating moments for a novel so short—but the story trots along at an easy, engaging pace and caught me off guard with its humor more than a few times:
"Re: their date. For a time, the novelty of the circus had distracted from the fact that they had nothing in common. By the end of dinner, the greater truth of their incompatibility had been revealed. Perhaps it should have been obvious from their inability to reach consensus on an appetizer or from his main course admission that he disliked "old things"—antiques, houses, dogs, people. Still, Amelia had not allowed herself to be certain until dessert, when she'd asked him about the book that had had the greatest influence on his life, and he'd replied Principles of Accounting, Part II." - pg. 6
3. It wasn't full of big ideas.
At its core, this is the story of a prickly man, beaten down by the world, who allows the twists and turns of life to melt his heart. Not exactly original. In fact, if I'd been reading it during a quieter moment in my life, I might have dismissed its overall simplicity and its less likely moments and enjoyed it far less. Combined with the chaos of my trip, however, this story was just the familiar comfort I wanted to bask in at the end of a stressful day or the middle of a long train ride.
Overall, I highly recommend this book for anyone who enjoys romance, clever literary references, or needs a quick, easy read when life becomes just a little too hectic.
On the subject of travel reads, here are a couple of other books (one I've read, one I haven't) that I think would be excellent for throwing in your carry-on the next time you go away, for business or otherwise:
What do you like to read when you're traveling?